Reposted from The Conversation, May 3 2018
Technologies for amplifying, sequencing and matching DNA have created new opportunities in genomic science. In this series When DNA Talks we look at the ethical and social implications.
Getting your "DNA done" is all the rage in the United States.
The sensationalism started with celebrities such as Jessica Alba, and Snoop Dog – and has now spread to hundreds of video bloggers disclosing their ancestry to drum rolls, exclamations, cheers and tears.
These tests claim to reveal deep ancestral origins, and many public users of this technology are black Americans seeking information about their African roots.
The uptake of direct-to-consumer genetic testing has been slower in Australia, and complicated by debates both beyond and within the Indigenous community – with some leaders calling on greater scrutiny to prevent "fakes" or "wannabes" calling themselves Indigenous.
One of the authors on this paper – Shaun Lehmann – was dropped into this debate inadvertently, after receiving the result of his own DNA test a few years ago.
Professional and personal
Shaun had more professional reasons for doing the test than most: at the time he was lecturing in human genetic diversity at the Australian National University, and wanted to use his own genetic data as teaching tool.
He also had personal questions about his maternal grandmother, who had died when he was a small child. She had grown up without her mother, and said little about her background.
Because they are related through a direct maternal line, Shaun knew that it was his grandmother, and by extension mysterious great-grandmother, who gave him his mitochondrial genome.
Mitochondria are the tiny organelles that make energy in our cells. While the genome in the nucleus of our cells – our 23 pairs of chromosomes – is made up of a mix of our biological mother's and father's DNA, the relatively small mitochondrial genome is passed down through the egg and so reflects a single line of maternal ancestors.
What Shaun didn't know at the time, and what the test revealed, was that his particular mitochondrial genome fell into a haplogroup (a grouping of similar mitochondrial genomes) called "S2", which has only been observed in Aboriginal Australians.
Interpreting genetic results
Being mitochondrial DNA, Shaun knew exactly where to look in his genealogy to find out more. Sure enough, he soon found records that his grandmother's maternal family were Aboriginal people originally from the Albany area of Western Australia. With this information in hand, Shaun was able to trace his family tree to living Noongar relatives.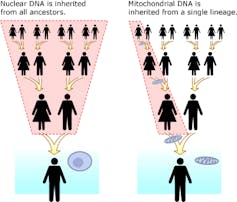 Shaun's discovery was certainly aided by the fact that he is a geneticist and could interpret his DNA test results. Most important, though, was that his Aboriginal ancestry happened to be in the direct maternal line.
Mitochondrial DNA is a reliable source of genetic information about Aboriginal ancestry, but it can't help at all if your Aboriginal ancestors sit anywhere else in your family tree. That is, it's only useful to track direct from mother to grandmother to great grandmother, and so on.
Different kinds of DNA tests
Most of the "ethnic breakdown" DNA results being shared publicly by bloggers come from testing companies that compare their nuclear DNA with material from various ethnic groups. The tests focus on variations in specific regions of genes – known as single nucleotide polymorphisms, or SNPs.
To our knowledge, DNA testing companies do not currently have reliable reference SNP data from Indigenous Australians.
One company offering tests claiming to identify Indigenous Australians uses an approach that compares sequences in genes known as Short Tandem Repeats, or STRs. STR data from around the world is widely available in the forensic science literature because it is widely used in criminal investigations and paternity testing.
Ethical and scientific concerns have been raised about the use of STR data for commercial ancestry testing. For example, it is difficult to know how companies get their reference samples.
The case of American blogger Lisa Garrigues is illustrative. Garrigues did a test back in 2010 – it reportedly gave her second "Highest Resolution Global Population Match" as "European-Aboriginal".
She was excited by this discovery, but also sceptical – her family has no known connections to the Southern Hemisphere. Lisa and her father subsequently did more thorough DNA testing, and it didn't suggest Aboriginal ancestry.
In our personal correspondence with one of the genetic genealogists that assisted Lisa, Doug McDonald suggests these kind of inconsistencies are extremely common – STR markers are not designed for ancestry tests, but for matching individual people.
After the test: now what?
We need to be on the lookout for misinformation and unethical practices around genealogy testing. But even where the science is reliable, such as Shaun's mitochondrial DNA test, the implications of identifying genetic Indigenous ancestry are far from clear.
Shaun was proud to learn about his ancestry, and has since got in contact with his relatives. He is also looking into his grandmother's past to find out whether her separation from her mother was influenced by the policies that led to the Stolen Generations.
Existing research suggests there are many possible endings for journeys like Shaun's. Bindi Bennett's work highlights how young, light-skinned people who had no previous ties to the Aboriginal community can develop a strong Indigenous identity, even in the face of resistance from that community.
But Fiona Noble's 1996 research with Queenslanders who discovered their Aboriginal ancestry late in life suggests many of this demographic see their heritage as extremely important, but not all-defining.
They are more comfortable describing themselves as being "of Aboriginal descent" than "Aborginal".
As Regina Ganter notes, the "in-between" status of these "half-steps" is not well-recognised contemporary policy and discourse – which tends to frame Aboriginality as an either/or identity.
Although Noble and Bennett's research participants discovered their heritage through documents or family stories, not genetics, their work offers a window onto a future where more Australians discover Aboriginal ancestry through DNA tests.
Without a doubt, the inevitable collision of Aboriginal and Torres Strait Islander Australia with direct-to-consumer genetic testing will continue to raise challenging questions about ancestry and identity in the 21st century.